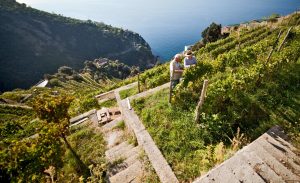 Wine in Campania is an ancient art which seduced the Greeks and the Romans in the past.
The unique "terroir" allows us to grow the extraordinary grapes which give the wine produced in Campania its surprising aroma and flavour.
We will take you on the discovery of the main wine makers of the region. You will be able to taste their best products accompanied by traditional local dishes.
The two trips will be planned to meet your particular needs and according to the time you have available.
Wine Tour 1 Full Day
Booking required, 15 days before
Departing from your hotel we will help you to discover the Amalfi Coast, showing you its most beautiful towns and telling you about its history. Our destination is Avellino and the land of wine: Tufo, Taurasi, Sorbo, Persico are only some of the towns that have important vineyards and famous wine producers. Our tour includes a visit to two of the most famous producers in the area: Mastroberardino and Feudi San Gregorio.
You will be able to taste their most important wines and you can have lunch in a restaurant which serves local homemade cuisine.
Wine Tour 2 Half day
Wines from the Amalfi Coast are one of the phenonemons emerging over recent years. Thanks to the selection of original vineyards and IGP recognition (Protected Geographic Indication), wines from the Amalfi Coast are starting to be appreciated and known around the world. Our brief tour will accompany you on the discovery of the Amalfi Coast and its jewels and will unveil the hidden beauties not often enjoyed by the tourist. Our destination is the Comune di Tramonti, home to wines of Amalfi and then we will visit one of the most famous wine cellars in the area. It is also possible to have a lunch in the restaurant of the cellar.
Finally we will stop for lunch in an agritourism where you can taste specialities of the Amalfi Coast and local produce.